The SpeechMike Premium has reached new heights of evolution.
Benefit from all the advantages of the industry leading SpeechMike Premium, without the constraints of a cable. Thanks to revolutionary lossless speech technology, the SpeechMike Premium Air offers maximum mobility without any compromises. Enjoy the most flexible desktop dictation microphone ever created.

Patented 100% lossless speech technology
for smooth wireless voice recording

Studio-quality microphone
for best-in-class speech recognition results

Decoupled free-floating microphone
for precise recordings without background noise

Superior touch sensor
for integrated mouse function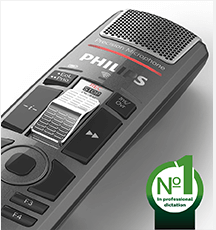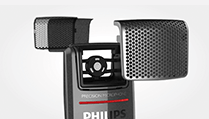 Studio-quality microphone
The SpeechMike Premium Air comes with a studio-quality microphone and a built-in tripple layer noise reduction filter for clearest recordings and most accurate speech recognition results.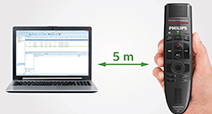 Integrated motion sensor
The integrated motion sensor, detects when it's put on the table, mutes the microphone, and once it is being picked up again it unmutes the microphone.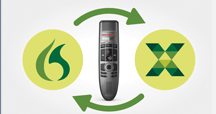 Freely configurable buttons
You can freely configure the buttons on your device or use the pre-installed Secured Dragon Mode. This mode pre-configures the buttons, optimizing them for use with Dragon speech recognition software.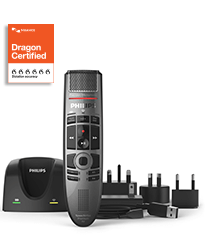 Your microphone comes with:

SpeechMike Premium Air Wireless Dictation Microphone

Docking station ACC4000

Power supply with international adapters: US, UK, Europe, Asia Pacific

2 USB cables

Quick start guide
Be one of the first to own RevolutionAir
The next best thing in mobile dictation can be yours,
Pre-Order The SpeechMike Premium Air Today.