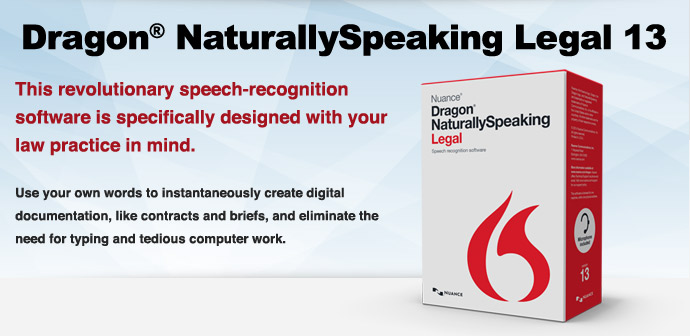 This speech-recognition software is not only the most advanced available today; it offers legal professionals benefits that no other speech-recognition software can like:

Advanced transcription capabilities that allow you to turn a single audio file or a batch of audio files into text by simply dragging and dropping the files into Dragon's Auto-Transcribe Folder Agent (ATFA).
A comprehensive legal vocabulary that lets you send emails, format legal citations, draft legal notices, and prepare responses as fast as you can speak them, reducing the time you and your support staff sit in front a computer, giving you the freedom to focus on higher-value tasks.


Full text and voice command controls in many popular web applications, spreadsheet creators, word processing programs, and databases.
Customizable macros that you can create that help you eliminate saying or doing the same things repeatedly. Plus, you can share them with other members of your legal practice.




Increased speed and up to 15% greater accuracy than previous versions of the software

Supports built-in microphones from most of the newer laptops as well as input from your iPhone or Android device

Full Text and Command Controls for Gmail™, Yahoo! Mail®, and Outlook®, within Internet Explorer®, Firefox®, and Chrome™

The Remote Desktop Connection gives you the power to dictate from computers that don't have the software installed and is now supported for Windows Server® 2012

"Learn from Sent Email" now also works with Web-based email applications so you can analyze documents and emails anytime, even after profile creation

A redesigned Dragon Sidebar, the Learning Center, contains essential commands and advice that changes automatically as you move from one application to another