Product Description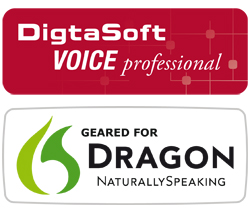 The Grundig Digta SonicMic 3 is a button-controlled dictation microphone that is ideal for Speech Recognition. The record/playback rocker and the forward and reverse buttons can be operated with minimal thumb movement. The buttons are located ergonomically in the middle of the device's front side. The other function buttons can also be configured for a customized workflow. Configure the Digta SonicMic 3's buttons for speech recognition commands or hotkeys. This makes dictation easier than ever.
The Grundig Digta SonicMic 3 allows you to avoid painstakingly learning speech commands, because it features a direct interface to Dragon Medical & Dragon NaturallySpeaking . This allows you use the microphone buttons for all important speech recognition commands.
The Digta SonicMic 3's integrated sound card and loudspeaker allows you to achieve crystal-clear playback. The frequency-optimized positioning of the microphone capsule and the pop filter provide an outstanding speech clarity. The polished surfaces of the Digta SonicMic 3 buttons also ensure that touch noises are not recorded. Nuance, the developer of Dragon speech recognition solutions, has tested the microphone and awarded it the highest rating for recognition precision: Dragon 6 Star Rating.